Moonlight Yoga
Jul 20, 2016 - 8:00pm to Jul 21, 2016 - 9:45pm
This event occurs every 2 weeks until Wed Aug 24 2016 except Wed Aug 17 2016. This event also occurs on Wed Aug 24 2016 and Wed Aug 31 2016.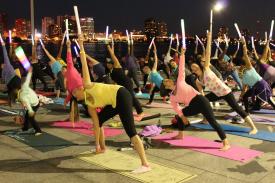 DUE TO WEATHER THE AUGUST 24th SESSION OF MOONLIGHT YOGA HAS BEEN RESCHEDULED TO AUGUST 31st. 
Moonlight Yoga provides a unique twist on yoga classes by providing participants with glowing jewelry and incorporating lighted glow sticks into traditional yoga poses.  
At each session, local yoga instructor Michelle Moten of Detroit's Urban Solace will lead participants through a series of traditional yoga poses, as well as new ones, utilizing special 16-inch lighted batons that will be provided to each registrant.  Additionally, each participant receives glow necklaces and bracelets to wear during the session.   The event $5 to cover equipment cost, and space is limited to 150 registrants for each session, so advance registration is required.  If a participant cannot cover the cost, limited scholarships are available by contacting [email protected].
Schedule of events:
Registration is from 7:30-8:30 PM
Class begins at 8:30 PM
Class ends around 9:45 PM
Important information:
Moonlight Yoga will take place at West Riverfront Park located at 1801 W. Jefferson. 
Participants should arrive by 8:15, so we can begin the class right on time.
Parking is available on the park site with an entrance off Jefferson close to Rosa Parks. Bike racks are available at the park. Below is a map of the park space.
Your receipt serves as your event admission ticket, please bring it with you.
Please also bring a yoga mat, or towel and water. There are no water facilities onsite, so please bring it with you.
Registration for the August 24th Moonlight Yoga is now closed. We will be accepting Walk-ups on a first come, first served basis.