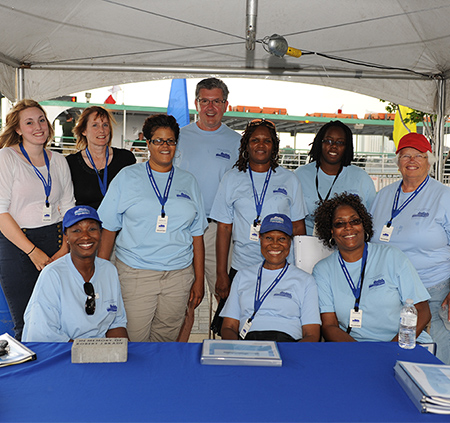 The Detroit Riverfront Conservancy welcomes millions of visitors each year through its various events and programs. Our dedicated volunteer corps is the force that makes it all possible.
Become a Detroit Riverfront Volunteer Today! Make new friends while helping make the riverfront a safe, clean, beautiful, and accessible gathering place for all.
To learn more about volunteer opportunities with the Detroit Riverfront Conservancy, click here.
Already a DRFC volunteer?
 Log in to Volgistics to view the volunteer schedule, sign up for assignments, and track hours.
Interested in becoming a DRFC volunteer?
Complete and submit our online 

Volunteer

Application

.
Attend an in-person volunteer orientation. You will receive an email ahead of the next scheduled orientation date to confirm your attendance. Volunteer orientation dates are listed below and are subject to change.
After completing a volunteer orienation, you will be asked to sign and return a Release and Waiver of Liability and Indemnity Agreement and Authorization for Volunteer Background Screening forms.
Once the paperwork has been processed, you will receive a login to our volunteer management system and can begin volunteering.
Upcoming DRFC Volunteer Orientations (dates are subject to change):
Wednesday, July 12 from 6 PM - 7:30 PM
Wednesday, August 9 from 6 PM - 7:30 PM
Wednesday, September 13 from 6 PM - 7:30 PM
Wednesday, December 6 from 6 PM - 7:30 PM
Group Volunteer Opportunities
Corporations, teams, or other groups looking to organize a unique volunteer experience on the Riverfront can click here to download our Group Volunteer Flyer. Once you are ready to organize your volunteer event, please reach out to our Volunteer Coordinator, David Miechiels, at [email protected].
For more information about volunteering, please e-mail [email protected].