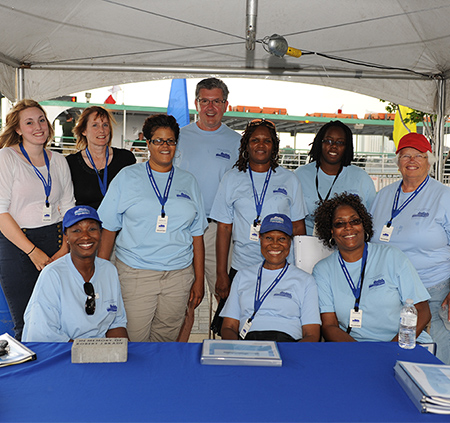 The Detroit Riverfront Conservancy welcomes millions of visitors each year through its various events and programs. Our dedicated volunteer corps is the force that makes it all possible.
Become a Detroit Riverfront Volunteer Today! Make new friends while helping make the riverfront a safe, clean, beautiful, and accessible gathering place for all.
To learn more about volunteer opportunities with the Detroit Riverfront Conservancy, click here.
 Interested in becoming a DRFC volunteer?
Please complete and submit an online volunteer application. Prior to service, applicants must attend a volunteer orientation, which are hosted each month. 
Already a DRFC volunteer?
Log in below to access the Volunteer Information Center and view the volunteer calendar, sign up for assignments, and record your hours. 
Group Volunteer Opportunities
Corporations, teams, or other groups looking to organize a unique volunteer experience on the Riverfront can click here to download our Group Volunteer Flyer. Once you are ready to organize your volunteer event, please reach out to our Volunteer Coordinator, David Miechiels, at [email protected].
For more information about volunteering, please e-mail [email protected].