Patrick J. Devlin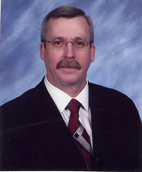 Board Member, Detroit Riverfront Conservancy
Financial Secretary/Treasurer, Michigan Building & Construction Trades Council
Patrick J. Devlin was elected Chief Executive Officer of the Michigan Building Trades Council in August 2005.
He previously had served as Secretary-Treasurer of the Greater Detroit Building Trades Council since January 1999. The Detroit Council was merged with the Michigan Council in August 2005.
Patrick entered the sprinkler fitter trade as an apprentice in 1971 after graduating from high school at Divine Word Seminary in Perrysburg, Ohio in 1970.
As a sprinkler fitter, he worked as a journeyman during construction of the massive Renaissance Center, and later as a general foreman while the Mazda Plant was being built in Flat Rock.
From 1988 until he was elected to his current position at the Michigan Building Trades, Patrick had been Business Manager of Sprinkler Fitters Local 704. During his time as Business Manager, he served time as both President of the 11,000-member Michigan Pipe Trades Association and as Chairman of the 14,000-member U.S.A. Sprinkler Fitters.
He also was appointed by the governor to the State of Michigan Mechanical Board of Rules.
As CEO of the Michigan Building Trades Council, Patrick oversees a Council that administers project agreements with construction contractors, acts as a liaison with the business and political communities, and promotes the hiring of a unionized construction workforce in Michigan.
Other appointments include Secretary, Red Cross Southeast Michigan Chapter, Board of Directors Blue Cross Blue Shield and the Board of Directors Greater Detroit Health Care Coalition.
Chartered in 1957, the Michigan Building Trades Council represents the interests of 14 craft unions and some 80,000 unionized construction workers in Michigan.
Devlin is married to Marsha. They live in Livonia and have two children.