Maria Elena Rodriguez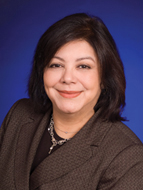 Board Member, Detroit Riverfront Conservancy
Entrepreneur and Community Activist in Southwest Detroit
Maria Elena Rodriguez combines media savvy honed during her TV-producing days, business acumen garnered from entrepreneurial ventures, and sheer pride in her Motown Mexican roots to realize goals long deferred.
As former President of Mexicantown Community Development Corporation, Ms. Rodriguez provided the leadership to make a dream come true, that of building the Mexicantown International Welcome Center and Mercado. She points out it was a team effort with major contributions and support from staff, the Board of Directors, and the Capital Campaign Committee.
She is currently a Board Member of the new Cristo Rey High School in Southwest Detroit; an Associate Advisor to Mexicans Abroad, a program created by the Secretary of Foreign Relations of Mexico, Board member of the Detroit Metro Convention and Visitors Bureau, and a Commissioner on the State of Michigan Spanish Speaking Affairs Commission.
Ms. Rodriguez is a 2005 Fellow of the National Hispana Leadership Institute, and as a result, an alumnus of the 2005 Harvard Executive program. She also completed the Center of Creative Leadership (CCL) program.
Ms. Rodriguez served on the Detroit Superbowl XL Committee Board of Directors, Knight Foundation Community Parnters Program in Detroit.
She is currently writing a book about Mexicantown for Arcadia Books, as well as developing a new business that highlights her vast knowledge of Mexican culture, language and traditions, evidencing her strong commitment and pride for Detroit.