Pamela Rodgers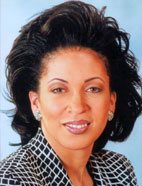 Board Member, Detroit Riverfront Conservancy
Owner and President, Rodgers Chevrolet
Rodgers has been a General Motors dealer since 1993. She first owned and operated Flat Rock Chevrolet Oldsmobile in Flat Rock, Michigan. In 1996, she moved her operation to Woodhaven and named the dealership Rodgers Chevrolet.
She earned her BA in Economics from the University of Michigan, Ann Arbor. She then attended the Fuqua School of Business at Duke University and obtained an MBA in Finance.
She serves on the Board of Directors for the Bloomfield Hills Private Bank. She also serves on several community boards, such as New Detroit, Southeastern Michigan Community Foundation and the Woodhaven Downtown Development Authority.