Glow Cycling
Thursday, Sep 05, 2019 - 7:00pm to 9:30pm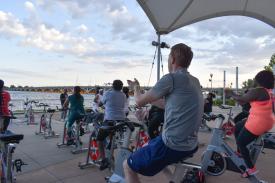 Glow Cycling, presented by Detroit Riverfront Conservancy, provides a unique twist on cycling classes by providing participants with glow jewelry and incorporating lighted glow sticks into a traditional cycling workout. Tyronza Nesbitt, owner of Detroit's first indoor cycling studio - Detroit Cycling Studio, will lead participants through an energy packed workout highlighted with glow accessories.
Join us for one of two sessions at Gabriel Richard Park - one at 7pm and one at 8:30pm.  Cost is $5 to cover the cost of materials and other associated costs. Space is limited and pre-registration is required.
To add yourself to the waitlist, click here.