Food and Fun with YMCA of Metro Detroit
Tuesday, Jul 06, 2021 - 3:00pm to 4:00pm
This event occurs every week Tuesday and Thursday until Thu Aug 19 2021.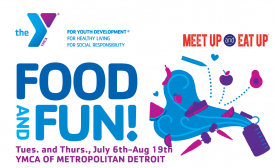 Food and Fun with YMCA of Metropolitan Detroit 
Tuesday and Thursday, July 6- August 18, 3-4 PM at Cullen Plaza 
The YMCA is bringing Food and Fun to kids all over Metro Detroit this summer! Activities include produce giveaways, taste tests, take home snacktivities, and more! 
This program is Free & Open to youth 18 and under.