Soiree on the Greenway
Aug 20, 2015 - 6:00pm to Aug 21, 2015 - 9:45pm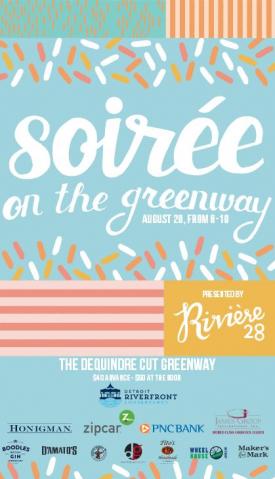 Location: Dequindre Cut Greenway
The Riviere28 summer series continues on the Dequindre Cut with Soiree on the Greenway, offering city chic cocktails and hors d'oeuvres, live music, and the chance to contribute to a community art project on this former Grand Truck Railroad line.
Now the 1.35 mile Dequindre Cut Greenway offers a pedestrian link between the riverfront, Eastern Market, and the residential neighborhoods in between.
$40 pre-sale tickets (CLOSED) / $50 walk-up entry
Your ticket purchase includes 4 food and 3 drink tickets; additional food and beverage tickets can be purchased at the event for $5 each
Free parking is available at the Gratiot entrance of the Dequindre Cut. Free Bike Valet is available at the event under the Chestnut underpass. 
Riviére28 Members please contact the Development Department at 313.566.8235 to purchase your tickets!
Net proceeds benefit the Detroit RiverFront Conservancy