Soirèe: Masquerade on the Greenway
Friday, Oct 26, 2018 - 6:00pm to 10:00pm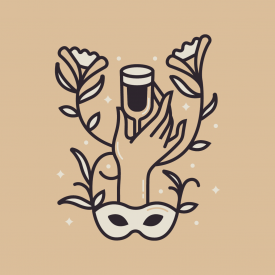 A masked fundraiser to benefit the Detroit RiverFront Conservancy
Friday, October 26th  |  Doors at 6PM  |  Ends at 10PM
Located at the Dequindre Cut Freight Yard
Ticketed, 21+ Event  
The Detroit RiverFront Conservancy invites you to put on a mask and join us for a harvest feast and art show underneath the stars at the Dequindre Cut Freight Yard.  Local food trucks will offer our guests fall flavors and Detroit breweries will have Oktoberfest beer, cider, and mead tastings. In keeping with the Soirée tradition, the evening will be filled with live and interactive artwork from local creators and students of the arts. Let's take in the fall colors and raise a glass to the end of a wonderful season in our parks, pavilions, and greenways. 
Your kind support through a ticket purchase or sponsorship will go towards keeping the riverfront a clean, safe, beautiful oasis for all citizens of Detroit. 
Interested in becoming a sponsor?