Two Long-Time Board Members Retire from Board
Thursday, December 19, 2013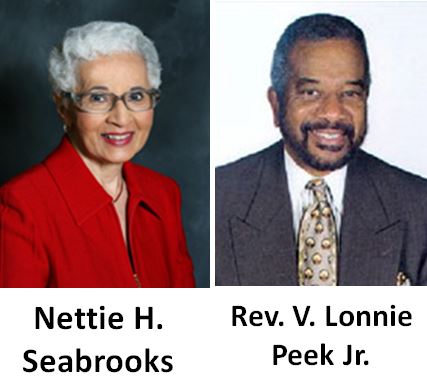 Throughout the last decade, the Detroit RiverFront Conservancy has benefited immensely from the strength of its Board of Directors, which represents a diverse mix of business, community and public sector leaders from throughout Metro Detroit.
Two of these Board members have been with the Conservancy from the very beginning, Nettie Seabrooks and Rev. V. Lonnie Peek, Jr.  Both are in their fourth and final terms on the Board and have been a tremendous asset to the Conservancy during their tenure.
Nettie H. Seabrooks is no stranger to the Detroit riverfront. She has been a member of the Detroit RiverFront Conservancy's Board of Directors since the organization was founded 10 years ago, which gave her the opportunity to play an integral role in the continuing evolution of the Detroit riverfront. But it's her perspective as a 30-year waterfront resident that gives Seabrooks an appreciation of the riverfront's transformation that few can match.
During her years along the riverfront, Seabrooks has seen it evolve into a vibrant place that draws residents and visitors for its natural beauty. "Our riverfront makes people smile," she said. "We used to look across the river and think 'Why can't we have a riverfront like our friends from Windsor?' But now we have a riverfront that is welcoming and beautiful."
That beauty is something that Seabrooks appreciates every day. She is also appreciative of the invitation she received from Matt Cullen to join the Board of the just-established Conservancy. "All of us early Board members knew this was a very special project," Seabrooks said. "There was just so much excitement and when Faye was hired, we knew we had the right person to move things along."
Seabrooks has gained much from her time on the Board. "I enjoyed my time, as well as my role leading the Governance and Nominating Committee," she said. "As one of the founding members, I feel that we helped lay a solid foundation on which the Conservancy could grow, and continue to grow, for years to come."
While her fourth and final term on the Conservancy Board comes to a close, she remains open to future possibilities, but hopes to stay involved with the Organization. She'll also continue working with the Detroit Institute of Arts and with the Manoogian Foundation.
As far as her wishes for the riverfront, she looks forward to the completion of the east riverfront and for the march along the west riverfront to continue "so residents of Southwest Detroit can enjoy the same riverfront amenities that people along the east riverfront enjoy."
For Rev. V. Lonnie Peek, Jr., his interest in the revitalization of Detroit's riverfront was stirred many years ago when Mayor Coleman Young asked that he stay behind after a meeting had ended. "He called me over to the window and looked toward the river," Peek recalled. "He said that someday, there would be a beautiful riverfront that stretched from Belle Isle to the Ambassador Bridge." Ever since then, I followed with great interest any potential plans that were being talked about to improve our waterfront. I knew when the time was right, it would happen."
More than 20 years after that conversation, community leaders began assembling a Board of Directors that would lead the Detroit RiverFront Conservancy in its mission to transform the riverfront. "I was thrilled when I was asked to join the Conservancy Board," Peek said, "because I knew it would be a tremendous opportunity to help make a difference in the town I love."
During the early years of the Organization, Peek remembers the excitement that radiated throughout the room during meetings. "For decades, the riverfront was not realizing its full potential," Peek said. "We needed a riverfront of which we could all be proud. We knew that this project had the opportunity to change our city and region for generations. We were all so excited to be a part of such an effort."
Ten years later, Peek, who serves as President and CEO of e-Business Strategies and Companies, remains excited about the project and is confident that riverfront progress will continue. He also envisions a time in the not-so-distant future when the riverfront area is filled not only with visitors, but with people living in neighborhoods near its shores.
Although Peek is completing his fourth and final term as a Board member, he plans to continue working with the Conservancy. "I'm honored to have had the opportunity to serve on the Board, working closely with individuals I respect so much," Peek said. "It has fulfilled me, and I look forward to continuing that relationship."