Rockin' on the Riverfront
Friday, Jul 12, 2019 - 7:30pm to 10:00pm
This event occurs every week Friday until Fri Aug 16, 2019.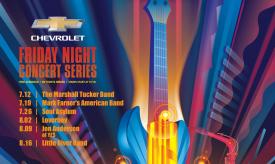 Chevrolet Rockin' on the Riverfront, the annual FREE concert series (no tickets necessary), will return for its 14th season at the Detroit Riverfront this summer, welcoming crowds every Friday night for classic rock and roll in Detroit.
Join us for a summer of rock Friday evenings beginning at 7:30 p.m. on July 12 through August 16. Rockers of all ages are welcome, admission is free and the weather will hopefully be in our favor. Fans are welcome to begin setting up chairs on the GM Plaza at 5 p.m.
2019 Line-Up
July 12 – The Marshall Tucker Band
July 19 – Mark Farner's American Band
July 26 – Soul Asylum
Aug. 2 – Loverboy
Aug. 9 – Jon Anderson of Yes
Aug. 16 – Little River Band