Riverfront Walking Tour
Sunday, Jan 29, 2023 - 1:00pm to 2:00pm
This event occurs every February on the fourth Sunday until Sun Feb 26, 2023.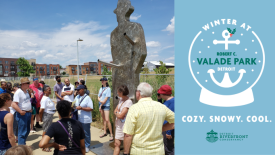 Whether it's your first time visiting or you're a regular excited to learn more, this tour will give you a brief overview of the history of the Detroit Riverfront and a chance to check out some of it's most popular attractions. Meet inside the building at Valade Park, located right at the park's main entrance off Atwater St. The majority of this tour will take place outside so dress for the weather! Free hand warmers will be provided. Drop-ins welcome; pre-registration encouraged.
Winter tours will take place from 1-2 PM on Sunday, January 29 and Sunday, February 26. 
Riverfront tours are part of  Winter at Valade's Winter Wellness Weekends. Before or after the tour, explore Winter at Valade and enjoy hot chocolate, bonfires, s'mores, and other festive winter fun!
Valade Park is located at 2670 Atwater. St. Parking for Winter at Valade is located in the lot at the corner of Chene and Guoin (enter on Guoin) and in nearby lots and streets. Please follow all posted parking directional signage.