Juneteenth on the Cut
Sunday, Jun 19, 2022 - 1:00pm to 5:00pm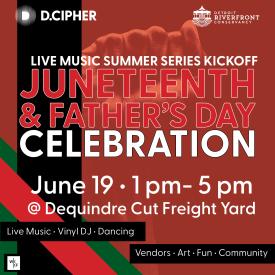 D. Cipher is back for their annual Juneteenth Celebration in partnership with the Detroit Riverfront Conservancy, this time with a special Father's Day twist! This year's event features live music by Lu Fuki & Divine Providence, an Afro-Cuban dance workshop with Yolanda Perez, and a vinyl DJ set with WhoDat. Plus food, drinks, and vendors onsite at the Dequindre Cut Freight Yard! All ages are welcome at this free program. 
Enjoy food from Buddah Foods, Longevity Vegantarian Cuisine, Detroit Smoothies, and Corner Boy Cafe. Plus yoga with Good Vibz Yoga, reiki with Reis of Light, live painting with Watercolor Connections, and art from Maryam Aishah and the TEAD One Artists in Residence. 
Juneteenth & Fathers Day celebration 
Sunday, June 19 from 1-5 PM 
Dequindre Cut Freight Yard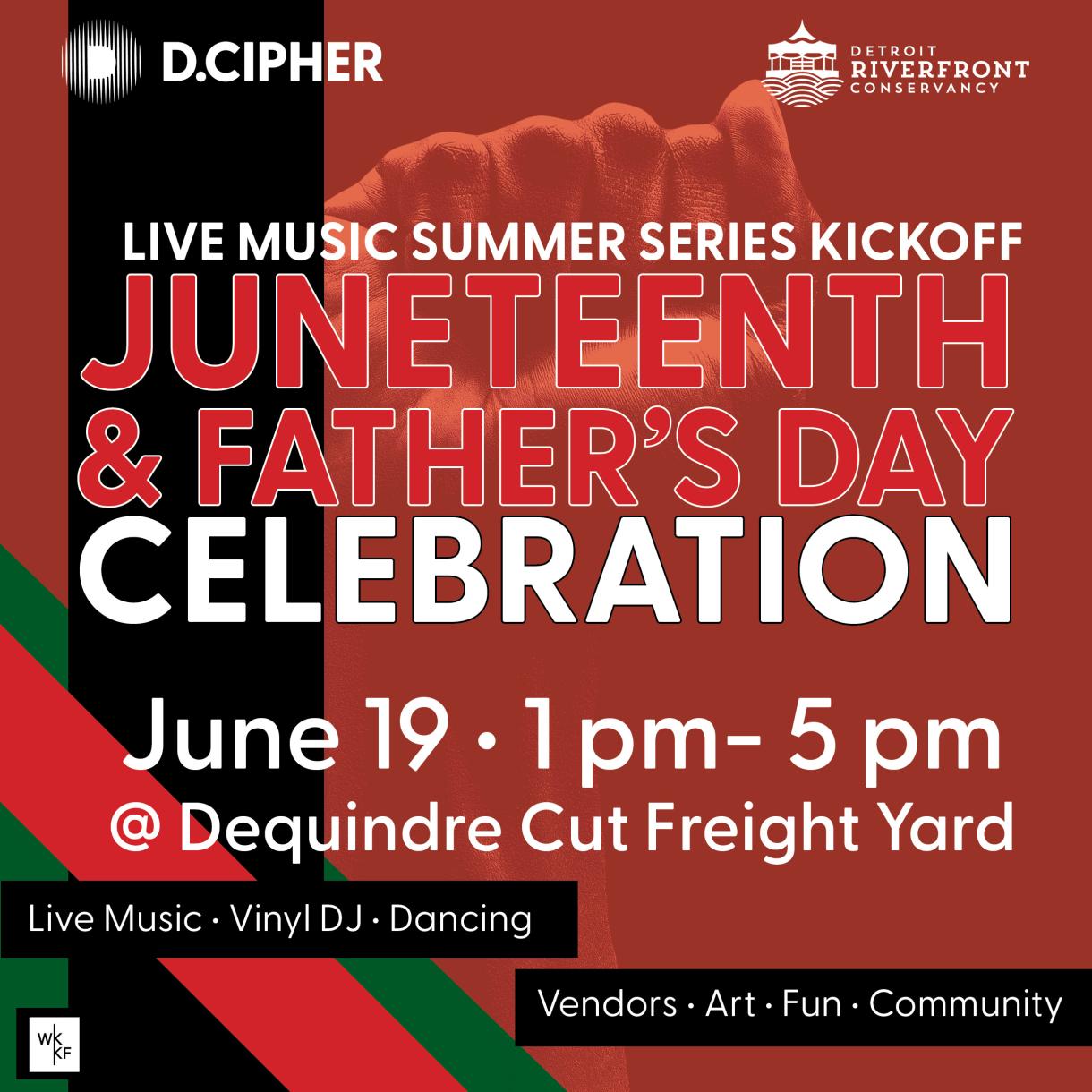 Parking for the Dequindre Cut Freight Yard is available in the lot in Eastern Market at Wilkins and Orleans. After parking, head down the ramp onto the Cut, turn right, and walk towards the Freight Yard. Bike parking is available onsite, and a MoGo station is located directly across from the Freight Yard. 
When participating in Detroit Riverfront Conservancy's programs or visiting the Detroit Riverfront, please remember: The health and safety of visitors and participants is our top priority. Please stay home if you are feeling sick or have been exposed to someone with COVID-19. Program participants are encouraged to wash or sanitize their hands frequently and to respect the comfort levels of those around them.