If the River Could Sing
Thursday, Sep 14, 2023 - 6:00pm to 9:00pm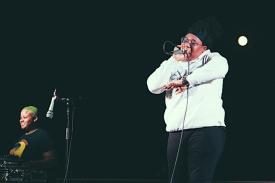 If the River Could Sing: A Celebration of Writing and River with InsideOut
Join InsideOut on Thursday, September 14th from 6-9 PM for an immersive evening of activities and performances, with the Detroit River as our inspiring backdrop.
If the River Could Sing: A Celebration of Writing and River with InsideOut will feature creative activation points inspired by the beauty and history of the riverfront. Centering on themes of arts & culture, wellness, and conservation, this unforgettable evening will culminate with a sunset showcase of music and poetry.
If the River Could Sing is free and open to all as part of InsideOut's community programming, designed to engage diverse audiences in the ways that the written and spoken word can connect to and enrich their lives. 
This event is made possible by the Poetry Foundation in partnership with the Detroit Riverfront Conservancy, with additional support from Henry Ford Health, Comcast, VVK PR + Creative, Decode Detroit, Ginosko Development Company, Plante Moran, PNC Bank, SMZ, Wells Advantage Group, ArborOakland Group, Zingerman's Community of Businesses and individual donors.
To see more of our inaugural If the River Could Sing event in 2022, watch this short video.