Please note: As of January, 2022 our engraver is no longer offering this service, we are pausing sales of bricks and pavers until we can find a vendor who meets our unique installation needs. Thank you for your understanding. 
Celebrate your memories and loved ones by making them a permanent part of the Detroit RiverWalk! Pay tribute to someone dear, make a birthday unforgettable, proclaim your love, or create a family treasure for generations to come.
Buy a Brick: Single or by Group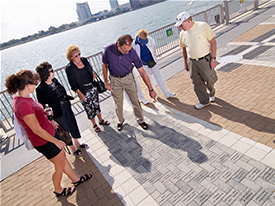 Put your personal stamp on a Brick with a name(s) or special message.
$100 - 4" x 8" brick includes two lines of copy with 14 characters per line
$500 - 8" x 8" brick paver includes five lines of copy with 14 characters per line
For the brick FAQ click here. You may also group your bricks! Family, friends, colleagues, companies, employees or other group can purchase bricks in a block.  Group orders of 25 include a free "header" or title brick. For details click here. 
Orders are NOT currently being taken for commemorative bricks and pavers at Gabriel Richard and Mt. Elliott Parks. Bricks at Cullen Plaza are at full capacity and are now closed, while Pavers are still available, we do not currently have a vendor to fill these orders, so orders are currently on hold.
Note: Brick installation occurs as weather permits. Wintertime orders will be placed in spring/summer of the following year. Please see note at top of page. 
Adopt a Bench
Beautiful benches along Detroit's RiverWalk provide restful places of repose, coveted lunch locations and front-row seats to the best views the city has to offer. Your recognition plaque will be shared with others who love the Riverfront for the next 20 years!
$5,000 Bench "Silver" Nameplate (1 ½" x 8") 1st line of text up to 75 characters, 2nd line of text up to 40 characters
$10,000 Bench "Gold" Nameplate (1 ½" x 16") 1st line of text up to 75 characters, 2nd line of text up to 45 characters
The Conservancy will work with you to select the location of your personalized commemorative bench.
For more information please call (313) 566-8230 or email [email protected]