Walk the RiverWalk Wednesdays
Wednesday, May 10, 2017 - 11:30am to 1:30pm
This event occurs every week Wednesday until Wed Aug 23 2017.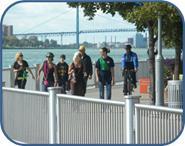 Walk the RiverWalk Wednesdays is a no-cost summer walking initiative designed to foster a sense of wellness among people living and working in downtown Detroit.  The program is open to anyone interested in participating, however.  Over the course of 16 weeks, registered participants are encouraged to visit the riverfront on Wednesdays to walk during the lunch hour or during scheduled breaks.
Participants check in via an online portal to record progress and to receive a free BCBSM-branded gift for every third check in.  The initiative kicks off on May 10 with a pedometer for all registered participants.  Other gifts include a T-shirt, water bottle and other wellness related gifts.  At the program's conclusion on August 23, all participants who checked in eight or more times are eligible for a drawing of Detroit RiverFront Conservancy prizes like memberships, engraved paver bricks along the waterfront and more!
 To register visit www.walkingworks.com and click REGISTER NOW and follow the directions below 
Enter your name, email, work zip code and choose I AM PARTICIPATING WITH MY COMPANY* -must choose this option to be eligible

Choose a plan name: Michigan, Blue Cross Blue Shield

Choose a group name: Detroit RiverFront Conservancy

Choose a program name: 2017 Walk the RiverWalk Wednesdays

Choose a team name: choose the team most relevant to you

Start walking and record every time you walk on a Wednesday online!

Every fourth Wednesday of the month (except May), visit GM Plaza from 11:30 a.m. -1:30 p.m. to pick up your FREE gift for participating! (May 31, June 28, July 26, and August 23)*

Walk more than eight times during the program and you'll be entered into a raffle for cool riverfront themed prizes!
Questions? Check out our FAQs  or email us at [email protected] 
* You must record your walks online to be eligible for gifts.