Uniroyal Promenade Grand Opening
Saturday, Oct 21, 2023 - 10:00am to 2:00pm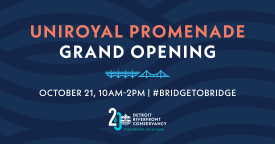 When: Saturday, October 21, 10 a.m. to 2 p.m.
Where: Mt. Elliott Park, 110 Mt. Elliott St.
10 a.m. - Brief Remarks and Ribbon Cutting at Mt. Elliott Park (streaming on Facebook Live here) 
10:30 a.m. - Stroll Across the New Promenade to Gabriel Richard Park
11 a.m. - 2 p.m. - Electric Park & Community Celebration at Gabriel Richard Park featuring:
Music from Larry Lee and the Back in the Day Band from noon - 1 p.m.
Face painting, kids rides & inflatables, carnival games and free giveaways at the Uniroyal Carnival
Food from Yellow Light Donuts, Mercurios and Spun Sugar and hot chocolate from Junk Food and Friends
Special commemorative postcard craft & commemorative prints from Signal Return
Detroit Riverfront Conservancy Partner Showcase

Arriving to Mt. Elliott Park
Parking is limited and we encourage visitors to prioritize arriving on foot, bike, roller skates, skateboards and other non-motorized transportation. Street parking and limited surface lot parking is available in the area of Mt. Elliott Park and along nearby sections of the Riverwalk.
At the end of the event, shuttles will be available to transport guests from Gabriel Richard Park back to Mt. Elliott Park. 
You're invited to join the Detroit Riverfront Conservancy in celebrating the completion of the 3.5-mile East Riverfront.
Twenty years ago, the Detroit Riverfront Conservancy worked with the community to create a vision for a Riverwalk that would bring people together at the water's edge.
On Saturday, October 21, the Conservancy will celebrate the completion of our initial vision for 3.5-miles of the East Riverfront.
This final section of the East Riverfront will provide a connection between Mt. Elliott Park and Gabriel Richard Park and connect the Riverwalk to the Belle Isle Bridge.
Please join the Conservancy to celebrate this exciting milestone, and be one of the first people to experience this new connection along the Detroit Riverfront.
RSVP not required but is appreciated.