Sunrise Club Detroit
May 03, 2017 - 6:00am to May 04, 2017 - 6:45am
This event occurs every June, July, August, September and October on the first Wednesday until Wed Oct 04, 2017.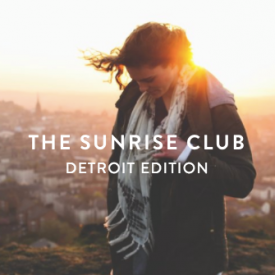 Join Sunrise Club - Detroit for a monthly meetup in Detroit with the goal of helping our community carve out just one hour per month to enjoy the rising sun over our great city.
Music and morning fuel (courtesy of KIND Snacks and Drifter Coffee!) are planned and we'll have a handful of picnic blankets available to borrow if you forget to bring your own. See you soon early-birds! 
To stay up-to-date as there may occasionally be a date change due to weather – join our Facebook group, subscribe to our events and sign up for our email list!
Future Meet-Ups:
Jun 7
July 5
Aug 2
Sept 6
October 4