Ralph C. Wilson, Jr. Centennial Park Groundbreaking
Tuesday, May 10, 2022 - 1:30pm to 3:30pm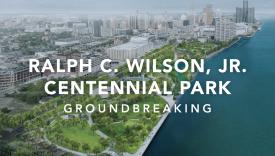 The Detroit Riverfront Conservancy and our partners invite you to the groundbreaking of Ralph C. Wilson, Jr. Centennial Park.
From the moment we start construction to opening day, West Riverfront Park will undergo a dramatic transformation into a world-class gathering place for all. This landmark destination will be an iconic space where our community comes together to make memories that will last a lifetime; from the basketball courts in the William Davidson Sport House to the giant bear slide and outdoor classroom welcoming kids of all ages in the Delta Dental Play Garden, this park is for everyone.
We hope you can join us to hear some special announcements during this significant moment for our community.
TUESDAY, MAY 10, 2022
1:30 PM
West Riverfront Park
1801 W. Jefferson Avenue (at Rosa Parks Blvd.) 
For questions, please contact Chiara Clayton 
Join us at Batch Brewing Company on May 10th at 4pm as we raise a glass to breaking ground at Wilson Park. Support Detroit businesses while enjoying local brews, tacos from the Taqueria Del Rey pop-up, and good company. The first 25 guests will receive a free drink ticket and Best Riverwalk giveaways.