Polar Fitness with Urban Solace
Saturday, Jan 08, 2022 - 11:00am to 12:00pm
This event occurs every 2 weeks Saturday until Sat Feb 19 2022.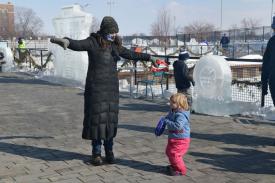 This winter, stay fit, warm and socially distanced through our Polar Fitness programming with Urban Solace Studio. This tone and stretch experience encourages participants to get outside and learn how to stay fit and warm in cold temperatures. Polar Fitness at Valade will take place on Saturday at 11 AM on the following dates: January 8 , January 22, February 5, and February 19.
After the class, stay for a hot chocolate or s'more around the fires as part of Winter at Valade! 
Valade Park is located at 2670 Atwater. Free parking is available in the lot at Chene and Guoin.