Pewabic on the Plaza
Wednesday, May 12, 2021 - 1:00pm to 3:00pm
This event occurs every May, June, July and August on the second Wednesday until Wed Aug 11, 2021.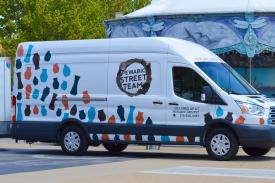 Join Pewabic Pottery's Street Team for hands-on clay activities on the Detroit RiverWalk. Pewabic will introduce visitors into the art of making pottery. This event is free and held at Cullen Plaza. 
Pewabic on Plaza takes place on the second Wednesday of every month. New this year, you'll also find the Pewabic Street Team at Valade Park from 12-2 PM on June 18, July 30, and August 27.