Pack Walk with Canine to Five
Sunday, Dec 19, 2021 - 10:30am to 12:00pm
This event occurs every 23rd of January until Sun Feb 20, 2022. This event also occurs on Sun Feb 20 2022.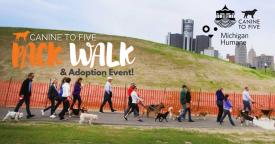 Pack Walks are back in action! Join us once a month for a guided walk with your pup along the Detroit Riverfront. Winter walks will start and end at Valade Park (2670 Atwater) and include a ten minute break at the halfway point. Stay after the walk to enjoy hot chocolate, s'mores, and other festive fun as part of Winter at Valade. 
You do not have to be a Canine to Five client to join us, this event is free and open to all leash friendly pups! Remember to bring your dog's leash, fresh water, and poop bags. Parking is free in the lot at the corner of Chene and Guion. 
Now partnered with Michigan Humane, there will be up to 5 adoptable dogs joining us on our walks whose adoption fees will be covered by Canine to Five! Come meet your new best friend.
Winter Walks from Valade Park - 10:30 AM - Noon 
December 19 
January 23 
February 20