Morning Meditation at Work from the Park
Wednesday, Aug 17, 2022 - 8:30am to 9:00am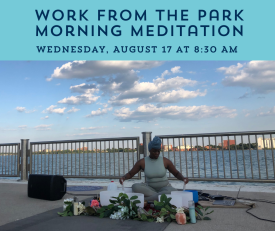 Start your work day with a sound bowl meditation along the Detroit River, hosted by Afro Moone. Stay for Work from the Park at Valade Park!
Enjoy a free guided meditation featuring a sound bath led by Sophiyah E of Afro Moone before Work from the Park at Valade Park on Wednesday, August 17 at 8:30 AM. No materials or experience necessary - just show up ready to relax and reflect.
This 30 minute session is the perfect way to start out your work day. After the program, stay for Work from the Park and spend your work day outside. Free coffee and smoothies are available from 9am-11am, and free public WiFi is available all day. Whether you stay for a few hours or all day, Valade Park is the perfect spot to #WorkFromThePark.
Learn more about Work from the Park at https://detroitriverfront.org/workfromthepark2022
Learn more about Afro Moone at https://www.instagram.com/afromoone/?hl=en