Herbal Walk & Talk
Monday, Jul 06, 2020 - 6:00pm to 9:00pm
This event occurs every 2 weeks until Mon Sep 28 2020 except Mon Aug 31 2020.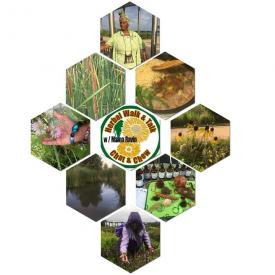 Join the Herbal Healing Hut & Detroit Riverfront Conservancy on the Detroit Riverwalk for the annual summer session of Herbal Walk & Talk, taught by Detroit's own Mama Ravin and her assistant Danielle Nanih Waiya! Look forward to evenings of adventure, education, and nature as you trek through the Milliken State Park Wetlands wetlands to identify edible weeds and herbs for medicinal uses & survival that can be found in your own backyard! Be sure to dress comfortably and accordingly and bring a water bottle. Social distancing parameters will be in effect. Please bring a mask! Sessions will be bi-weekly unless scheduled otherwise.
Pre-registration is required.
Participants are encouraged to wear a mask and bring their own water. We kindly ask that you give fellow participants and Riverfront patrons six feet of distance to keep everyone safe.
When participating in the Detroit Riverfront Conservancy's programs or visiting the Detroit Riverfront, please remember to:
1. Stay home if you aren't feeling well.
2. Maintain a distance of at least six feet from others.
3. Wear a mask or face covering if possible, including in crowded outdoor areas.
4. Use hand sanitizer or wash hands often.