El Día de los Muertos Ofrenda
Oct 31, 2020 - 12:00am to Nov 04, 2020 - 12:00am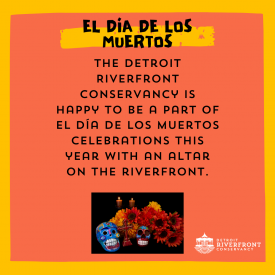 The Detroit Riverfront Conservancy is happy to be a part of El Día de los Muertos celebrations this year with an ofrenda (alter) at Cullen Plaza (1340 Atwater) from October 31  to November 18. Volunteers will be at the ofrenda (alter) October 31-November 2 to answer questions and interact with the public. Visitors are encouraged to leave the name of a loved one or a special message for those who have passed at our ofrenda. 
About El Día de los Muertos
El Día de los Muertos (Day of the Dead) is a time to remember our loved ones who have passed away. It is celebrated October 31-November 2 in Mexico and some Latin American countries. Please click through the infographics below for more information.