Dequindre Cut Walking Tour with City Institute
Sunday, Jul 17, 2022 - 1:00pm to 3:00pm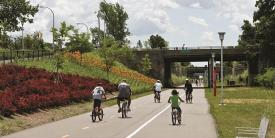 Detroit's award-winning RiverWalk features multiple parks and green space connected by a scenic promenade along the Detroit River. On this walking tour, you'll get to take a stroll along Dequindre Cut as you learn about the greenway's past and present. You will also be introduced to the amazing spaces along the greenway, the programs that exist today, and the incredible future plans for the Joe Louis Greenway.
2022 Dequindre Cut Walking Tours 
Saturday, May 21, 1-3 PM 
Sunday, July 17, 1-3 PM 
Sunday, September 18, 1-3 PM
Pre-registration is required at the link below. Parking is available in the lot at Wilkins and Orleans, which is also where the tour begins. 
This tour is produced by City Institute. Please visit www.thecityinstitute.com to hear interviews with Detroit residents, community leaders, and small business owners or to schedule a tour for your group on any number of topic