Dequindre Cut Grand Opening Celebration
Apr 29, 2016 - 2:00pm to May 01, 2016 - 2:45pm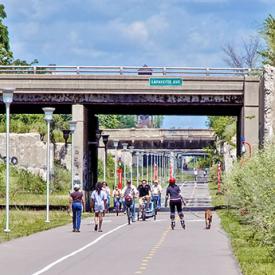 The Link Detroit Greenway/Dequindre Cut Extension Grand Opening celebration will be a festive, community-focused event that features something for everyone.  Guests will find a colorful, engaging atmosphere featuring entertainment, food trucks, hands-on activities and other surprises. 
A half-hour formal program on Friday will allow representatives from those companies and organizations integral to the project to offer brief comments and to participate in a ceremonial ribbon cutting. 
Saturday's celebration will feature a very short program and a day of entertainment and activities.  The public will be invited to attend both days, but most of the activities will take place on Saturday.
Link Detroit - Ribbon Cutting Press Conference & Celebration
Date: Friday, April 29th    Time: 2-3:30 p.m.
Location: Wilkins Street Plaza/Dequindre Cut Extension
Link Detroit - Community Grand Opening Celebration
Date: Saturday, April 30th Time: Early a.m. activities & 11 a.m.-3 p.m.
Location: Wilkins Street Plaza/Dequindre Cut Extension
Link Detroit is a multi-modal project to enhance and connect existing greenways.  The project creates an accessible network of routes for cyclists and pedestrians between major destinations like Eastern Market, Hamtramck, Midtown, the Dequindre Cut and the Detroit Riverfront. 
The projects include: the extension of the Dequindre Cut from Gratiot to Mack Avenue; additional bike lanes from the end of the Dequindre Cut to Hamtramck; bridge improvements over the Dequindre Cut; additional bike lanes and a Midtown Loop path connection from Eastern Market to Midtown; and also bike lanes and streetscape enhancements on Russell Street in Eastern Market. The project is another demonstration of how collaboration can produce enhancements to improve the community environment.