Dequindre Cut Freight Yard
Saturday, Jun 27, 2020 - 11:00am to 8:00pm
This event occurs every week Saturday until Sat Sep 26 2020.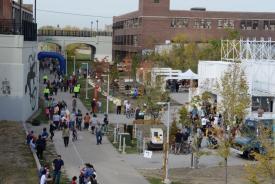 The Dequindre Cut Freight Yard is the go to destination for outdoor libations and merriment this summer! Head to the Dequindre Cut for this retail, entertainment and gathering space built from nine repurposed shipping containers. 
The Freight Yard features nine shipping containers that are installed in a pattern designed to be visually stimulating, yet functional as well.  The "Hub" is the centerpiece of the installation and features five shipping containers stacked on top of each other to house a DJ booth and retail space.  Interesting lighting treatments, creative site furnishings and the colorful work of local artists combine to create a fun, festive environment.
Freight Yard is located on the Dequindre Cut between Wilkins and Division street with the closest entrance located at Wilkins Street. Parking is available in the Eastern Market District. 
For a full list of hours, entertainment, food trucks and vendors visit us on facebook at https://www.facebook.com/DequindreCutFreightYard.
When visiting the Dequindre Cut, please remember to:
1. Stay home if you aren't feeling well.
2. Maintain a distance of at least six feet from others.
3. Wear a mask or face covering if possible, including in crowded outdoor areas.
4. Use hand sanitizer or wash hands often.