Black Health Movement Second Saturday Fit Fest
Saturday, Aug 13, 2022 - 9:00am to 12:00pm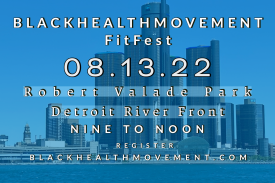 The mission of Black Health Movement is to deal with the poor state of health in black and brown communities by creating a culture shift toward Social Fitness and Proper Nutrition that will reverse racial health disparities in diabetes, hypertension and obesity.
Join the movement on at the Black Health Movement Second Saturday Fit Fest on Saturday, August 13 from 9am-noon at Robert C. Valade Park (2670 Atwater). Participants will rotate through fitness stations in the park and along the riverfront. Please dress for movement. Guests can also connect with the Propel Your Joy of Working Out Tour for refreshments during or after their workout. Parking is free at the corner of Chene and Guion. 
Watch a video about Black Health Movement Fit Fest
When participating in Detroit Riverfront Conservancy's programs or visiting the Detroit Riverfront, please remember: The health and safety of visitors and participants is our top priority. Please stay home if you are feeling sick or have been exposed to someone with COVID-19. Program participants are encouraged to wash or sanitize their hands frequently and to respect the comfort levels of those around them.