2023 Dequindre Cut Spring Cleanup
Saturday, Apr 22, 2023 - 10:00am to 1:00pm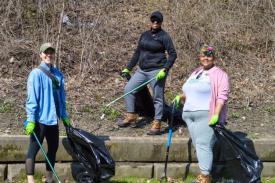 Join the Detroit Riverfront Conservancy for our annual Dequindre Cut Spring Cleanup! Celebrate Earth Day by helping remove litter from the Dequindre Cut Greenway and its surrounding streets. Volunteers of all ages and abilities are encouraged to participate. Those volunteering who are under the age of 18 must volunteer with an adult. More information and a link to register can be found below.
When: Saturday, April 22 from 10 AM - 1 PM. Volunteers can check in any time between 10 AM - 1 PM and serve for as much time as they'd like.
Where: Dequindre Cut Greenway, Detroit, MI 48207
Check-in Locations: Volunteer check-in tables will be located at the Woodbridge, Lafayette, Gratiot, and Wilkins entrances to the Dequindre Cut Greenway. Gloves, trash bags, and a limited number of pickers and rakes will be available. 
Parking: Free parking is located at Lafayette St & Orleans St, as well as along Woodbridge St near the entrance of the Cut. There is also free parking at the Eastern Market lot (Wilkins St & Orleans St), the lot near Robert C. Valade Park (corner of Atwater St & Chene St), and at Cullen Plaza (1340 Atwater St, Detroit, MI 48207).
What to Bring: Volunteers are encouraged to dress appropirately for the weather and bring their own work/gardening gloves. There are a limited number of portapotties along the Dequindre Cut Greenway, so we would recommend using the bathroom before you arrive.