Southwest Greenway Grand Opening
Wednesday, May 24, 2023 - 2:30pm to 7:00pm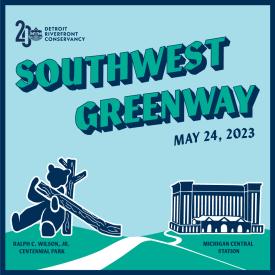 Please join the Detroit Riverfront Conservancy for the grand opening of the Southwest Greenway and a celebration of upcoming greenway connections across the city on Wednesday, May 24 from 2:30 to 7 p.m.
The Southwest Greenway is a more than half-mile below-grade path connecting the future Ralph C. Wilson, Jr. Centennial Park to the Michigan Central campus and the Mexicantown, Hubbard Richard and Corktown Neighborhoods. 
The entire community is invited to help mark this momentous occasion.  The event takes place at 2209 Bagley and begins with an hour-long press conference and ribbon cutting beginning at 2:30 p.m., followed by a community celebration along the greenway featuring art, music, giveaways and more.
Complimentary parking is being provided by the Detroit Riverfront Conservancy for this event in nearby structure at 1501 Wabash St. 
Registration is encouraged but not required to attend.
Por favor acompañenos a Detroit Riverfront Conservancy para la gran apertura del Southwest Greenway y a la celebración de futuras coneciones a través de la ciudad el miércoles 24 de mayo de 2:30 a 7:00 p.m.
El Southwest Greenway es un sendero de mas de media milla a un nivel bajo conectando con el futuro Ralph C. Wilson, Jr., Centennial Park hacia Michigan Central campus, Mexicantown, Hubbard Richard y Corktown Neighborhoods.
La comunidad entera esta invitada a celebrar esta memorable ocasión. El evento tomará  lugar en el 2209 Bagley y empieza con una hora conferencia de prensa y el corte del listón tradicional empesando a las 2:30 p.m. El evento continuará con una celebración comunitaria a lo largo de el Greenway presentando arte, música, premios y más.