SOIRÉE ON THE GREENWAY INFO & FAQ
SOIRÉE SCHEDULE
6PM-10PM: Experience the Dequindre Cut transformed into a mysterious night circus with entertainment and food in every corner, including:
Ten of the Top Food Trucks from Harvest Fest 2021, including Real Taco Express, Hog Heaven, Vegan Nova, Big Bo's, the Druken Rooster, Andre's Louisiana Seafood, and More!
Daring performances from the Motley Misfits, a premiere circus-style performance troupe of Michigan. From fire dancers to stilt walkers, our guests will be in for a thrilling evening of entertainment.
Royal Oak Psychic will be providing Tarot Card and Crystal Ball readings to our Soirée guests.
Create intentional candles with Eastern Market's Discount Candles candle dressing experience.
Juan Martinez's pedal-powered animal bikes will be back, giving guests rides up and down the Cut
Old-style carnival games at the Cirque de Freight Yard Arcade.
One-of-a-kind custom masks created by a local artist are provided to the first guests to arrive.
AND MORE!
7 PM A special bizarre musical performance from the Aston Neighborhood Pleasure Club featuring the Flames N' Dames fire dancers.
TICKETS & ENTRY
To cut back on wait times, guests will be mailed their wristbands within two weeks of the event to the address provided when purchasing your ticket(s) or sponsorship. If you purchased your ticket(s) after 9/16, your wristbands will be under your name at Will Call. If you would like to make alternate arrangements for your wristbands, please contact us at [email protected].
LOCATION
Soirée is located at the Freight Yard on the Dequindre Cut between Wilkins and Division street with the closest entrance located at Wilkins Street.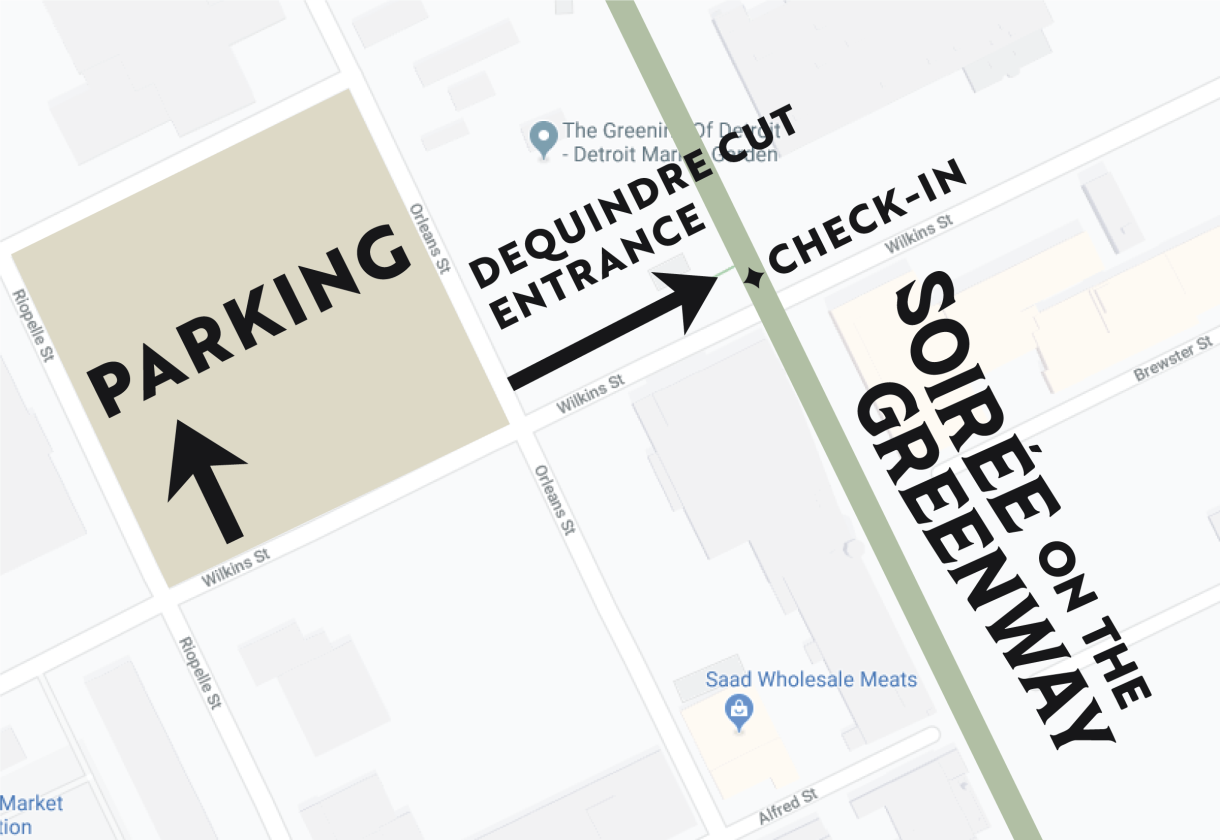 PARKING & BIKE VALET
Guests arriving by car can park in the large lot off of Wilkins St between Orleans St & Riopelle St in Eastern Market.
For guests biking to Soirée, a complimentary bike valet will be provided by Wheelhouse Detroit.   

ATTIRE
Dress for the evening is Festive Attire; come masked and dressed to impress! You can join us in fall cocktail attire with a simple mask or fully embrace the theme of the evening with a festive suit, cloak, and ornate mask. Early arrivers will receive hand-made masks designed by local artists. Covered seating will be available, but be prepared for an evening outdoors. We encourage our guests to wear layers if the evening calls for chilly weather and flat shoes since the event will be partially on grass and gravel.
MURAL UNVEILING
Soirée on the Greenway is the only time of year new art is revealed on the Dequindre Cut Greenway. This year, local artist, Ivan Montoya, is painting a unique mural making an immersive experience for anyone who walks, bikes, or runs along the Cut.
Ivan Montoya (b. Chihuahua, Mexico, 1995) is a Detroit-based painter and muralist. As a first-generation immigrant, he uses motifs from the natural world and mesoamerican folklore to visually represent his experience of existing between cultures. Ivan earned his BFA from the College for Creative Studies in 2017 and received the Imre J. Molnar Artistic Achievement Award, appointing him as merit-based valedictorian. Following graduation, he attended the Illustration Academy in Kansas City, MO. Since then, Ivan has worked as a freelance illustrator, artist, and muralist, partnering with clients including The Platform, Rocket Central, Mckinsey & Co, 1x Run, and City of Detroit. Ivan has been featured by Spectrum, 3x3 Mag, and The Society of Illustrators, and has worked in the Guillermo Del Toro Bleak House Collection. 
Photo Credit: Darrel Ellis
HEALTH & SAFETY PROTOCOL
The health and safety of our guests, volunteers, and staff is our top priority. Please stay home if you are feeling sick or have been exposed to someone with COVID-19. Guests are encouraged to wash or sanitize their hands frequently and to respect the comfort levels of those around them while at the event.
FAQ
What is included with my ticket?
MAIN EVENT TICKET | $75 
Includes entry for 1 guest, 3 meal vouchers, 3 drink vouchers, live musical entertainment, fall activities, and more! 
SOIRÉE VIP TABLE | $500 | 4 GUESTS 
Includes a reserved table, 4 VIP tickets, unlimited access to food trucks & refreshments, and souvenir masquerade masks!
What activities will there be this year?
Come one come all to the Cirque de Freight Yard. Experience unique carnival performances and activations throughout the Dequindre Cut. Look into the future using a mystical crystal ball with the guide of psychics or create your own candle of intentions. Special performances include the Astin Pleasure Club, Flames 'N Dames, Juggling Unicycle, Alli Spins,  and more! 
What is the fundraiser in support of?
Soirée on the Greenway raises essential funds to support the ongoing maintenance and operations that keep the Detroit Riverfront a safe, clean, and beautiful oasis for all citizens of Detroit. 
Questions? Contact us at [email protected]