Riverfront Relaxin'- Music and Movie nights at West Riverfront Park
Thursday, Jul 14, 2016 - 6:00pm to 10:30pm
This event occurs every 2 weeks until Thu Aug 25, 2016.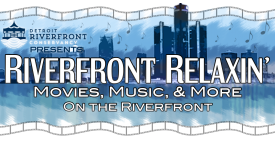 RIVERFRONT RELAXIN' HAS BEEN CANCELLED FOR AUGUST 25th, DUE TO WEATHER. 
RIVERFRONT RELAXIN', PRESENTED BY DETROIT RIVERFRONT CONSERVANCY, BRINGS FREE ENTERTAINMENT SERIES TO DETROIT'S RIVERFRONT THIS SUMMER
Enjoy live music, classic movies, food trucks and games – all under the stars and next to the breezy Detroit River. 
Celebrate summer along the beautiful Detroit Riverfront with a brand new entertainment series – Riverfront Relaxin' – presented by The Detroit RiverFront Conservancy and in conjunction with Park Solutions. Riverfront Relaxin' is a FREE four-night series, beginning Thursday, July 14th, featuring live music, games, food trucks, vendors and culminating with classic movies under the stars at West Riverfront Park located at 1801 W. Jefferson. Music kicks off at 6:30 and movies being at 8:30 pm, so bring your lawnchairs and blankets and head down to West Riverfront Park for riverfront relaxin'. See below for the music and movie info!
July 14 - Movie - Purple Rain                                         Music - Larry Lee & the Back in the Day Band
July 28 - Movie - The Breakfast Club                            Music - Rockstar (80s Tribute Band) 
August 11 - Movie - Ferris Bueller's Day Off               Music - Jody Raffoul Band
August 25 - Movie - A Hard Day's Night                      Music - The BackBeats (Beatles Tribute Band) 
   Riverfront Relaxin' is sponsored by by Kinky Beverages and Miller Lite.