Rise Together
Thursday, May 12, 2022 - 5:30am to 6:30am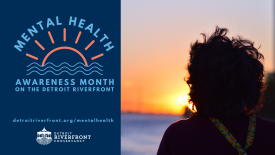 Join in a communal viewing of the sunrise over the Detroit River at Rise Together. Hosted by Afro Moone and inspired by the Detroit Sunrise Club, Rise Together will take place at 5:30am at Gabriel Richard Park on Thursday, May 12.
It is with great honor Afro Moone and musical guests will explore elevation through frequencies of sound. Our purpose is to establish meditation practices for compassion and gratitude within our hearts! 
INDIGO sound bath meditations explore tranquil frequencies encouraging internal/external awareness, reflection, gratitude, and over all integrative wellness. Within this safe space participants are invited to deep listen, practice energy/breath activation, relaxation techniques and also experience a guided meditation. Accompanying the meditation will be sonics from Sophiyah E. (Piano) + Tazeen  (flute). 
Feel free to bring comfort items for your meditation here are suggestions: 
Yoga Mat 
Keepsakes 
Journal 
Guests are encouraged to free form, move and use nature elements to center.
Free parking is available in the lot accessible off of Jefferson. Head towards the River and join the group near the pavilion. 
This program is part of Mental Health Awareness Month on the Detroit River. Learn more at detroitriverfront.org/mentalhealth.
When participating in Detroit Riverfront Conservancy's programs or visiting the Detroit Riverfront, please remember: The health and safety of visitors and participants is our top priority. Please stay home if you are feeling sick or have been exposed to someone with COVID-19. Program participants are encouraged to wash or sanitize their hands frequently and to respect the comfort levels of those around them.