Polar Fitness at Valade
Sunday, Jan 10, 2021 - 12:00pm
This event occurs every 2 weeks Sunday until Sun Feb 28 2021.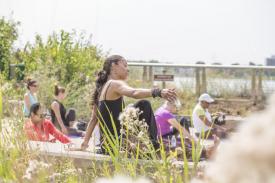 This winter, stay fit, warm and socially distanced through our Polar Fitness programming with Urban Solace Studio. This tone and stretch experience encourages participants to get outside and learn how to stay fit and warm in cold temperatures. Polar Fitness at Valade will take place on Sunday at noon on the following dates: January 10, January 24, February 7, and February 21.
 Visit the Winter at Valade page and check our Instagram and Facebook pages for more winter activities!
When participating in Detroit Riverfront Conservancy's programs or visiting the Detroit riverfront, please remember to:
1. Stay home if you aren't feeling well.
2. Maintain a distance of at least six feet from others.
3. Wear a mask or face covering if possible.
4. Use hand sanitizer or wash hands often.