Deborah Hardison Hill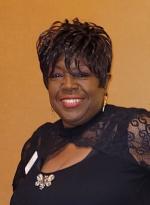 Board Member, Detroit Riverfront Conservancy
Volunteer Delegate
The middle of five siblings, Deborah was born on April 25, 1954 and raised in Detroit, MI. When Deborah was 6, her father passed away due to complications from diabetes. Her mother then passed away from cancer when Deborah was 11. Although her time with her parents was short, she holds the memories made and lessons learned close to her heart.
After the passing of her parents, Deborah moved to the Westside and graduated from Murray-Wright High School, where she studied commercial cooking. Deborah then attended Detroit Business Institute for Legal and Medical Secretary Studies, briefly studying Psychology at Wayne State University.
Deborah's first "real job" was as an Executive Secretary at J.L. Hudson. Afterward, Deborah spent a number of years working for Kelly Services before beginning her career at Comerica Bank in its Legal Department. 27 years and two departments later, Deborah retired from Comerica Bank's Retail Banking Department in 2016.
Deborah has been married to her husband, Nelson Hill, for 41 years. Deborah's son Larry made a career in the U.S. Navy. Now retired, Larry lives in Virginia with his wife and two teenage sons, one of whom attends Hampton University. Deborah's stepson, Little Nelson, lives in Michigan with three adult children.
When not volunteering, Deborah enjoys cooking, spending time with her family, being outdoors, and riding her CanAm Spyder motorcycle. She is also an active member of her church, Word of Faith; there, she has taught at the Children's Church, sang in the choir, worked in the kitchen, ministered to seniors, and ministered at drug-and-alcohol-abuse rehabilitation facilities. She loves interacting with people and ministering the Word of God. As some of her friends tell her, Deborah doesn't know a stranger.
Deborah's love for Detroit and for Michigan will always be a part of her. At her heart, she is an ambassador. She is always telling people why they should visit. As Deborah sees it, the media may report one thing, but the people here will say and show you a wonderful city. From the parks, to cultural districts to the entertainment and restaurants, Detroit has many gems, and that's why she loves to talk about it!