World Labyrinth Day Walking Meditation
Saturday, May 07, 2022 - 11:00am to 12:00pm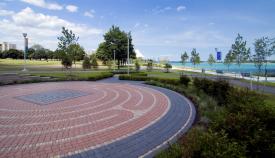 Celebrate World Labyrinth Day at Gabriel Richard Park along the beautiful Detroit Riverfront.
The Detroit Riverfront Conservancy is partnering with the Detroit Zen Center who will lead participants on a FREE peaceful walking meditation. This mindful walk will take in the the sights and sounds of Gabriel Richard Park including the labyrinth located there. No experience necessary. Guidance will be provided.
The Detroit Riverfront Conservancy recognizes that mental health is just as important as physical health. This year we have created a series of programs to help support mental health and mindfulness. These programs provide an opportunity for Riverfront visitors to escape the hustle & bustle and have a moment to pause, reflect and enjoy being in the present moment.
When participating in Detroit Riverfront Conservancy's programs or visiting the Detroit Riverfront, please remember: The health and safety of visitors and participants is our top priority. Please stay home if you are feeling sick or have been exposed to someone with COVID-19. Program participants are encouraged to wash or sanitize their hands frequently and to respect the comfort levels of those around them.
Free parking onsite.
For more information about the program email: [email protected]