Rise Together - Fall Equinox Sunset
Thursday, Sep 22, 2022 - 7:00pm to 8:00pm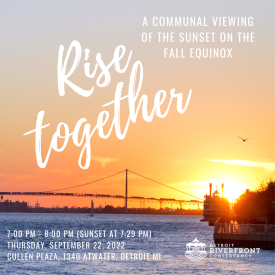 Join in a communal viewing of the sunset over the Detroit River at Rise Together. Hosted by Afro Moone and inspired by the Detroit Sunrise Club, Rise Together will take place from 7-8pm at Cullen Plaza on Thursday, September 22.
This month's Rise Together is a special celebration of the Autumnal Equinox. On this day, the sun is exactly above the equator, and day and night are of equal length. This also marks the official beginning of fall. Mark the changing of the seasons by gathering in community to watch the sunset while enjoying a guided meditation and sound bath, featuring live music and instruction from Sophiyah E. of Afro Moone. 
Guests are encouraged to bring blankets, folding chairs, or yoga mats, and are welcome to bring journals and keepsake items to center their meditation. No past experience with meditation is necessary, and all ages are welcome. 
Free parking is available in the lot at Cullen Plaza.