Intro to the Detroit Riverfront Walking Tour
Saturday, May 06, 2023 - 2:00pm to 3:00pm
This event occurs every 2 weeks until Sat Sep 16 2023 except Sat Jun 03 2023, Sat Jul 29 2023, Sat Aug 12 2023, Sat Aug 26 2023 and Sat Sep 09 2023. This event also occurs on Sat Aug 05 2023, Sat Aug 19 2023, Sat Sep 02 2023 and Sat Sep 16 2023.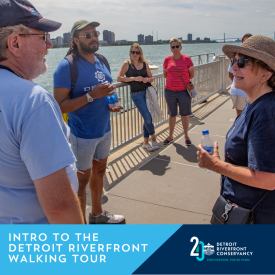 Whether it's your first time visiting or you're a regular who's excited to learn more, this tour will give you an overview of the history of the Detroit Riverfront and a chance to check out some of its most popular attractions. Meet at the entrance to Cullen Plaza (1340 Atwater) and look for the volunteers in bright blue shirts. Wear your walking shoes and dress for the weather! Guests are encouraged to bring water and prepare for an hour of walking outside. 
Drop-ins welcome! Register below for a reminder message. 
Tours take place on the first and third Saturday of May - September: May 6 +20, June 17, July 1 + 15, August 5 + 19, September 2 + 16. 
*No Tour June 3 due to the Grand Prix
Parking is available in the lot at Cullen Plaza. Please allow enough time to park and join the tour.