Intro to the Detroit Riverfront Walking Tour
Saturday, May 07, 2022 - 2:00pm to 3:00pm
This event occurs every May, June, July, August and September on the first Saturday until Sat Sep 03 2022.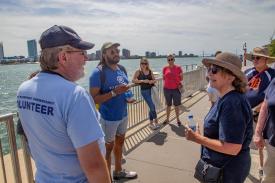 Whether it's your first time visiting or you're a regular excited to learn more, this tour will give you an overview of the history of the Detroit Riverfront and a chance to check out some of it's most popular attractions. Meet at the Cullen Plaza Ambassador Cart, located under the pavilion close to the restrooms. Wear your walking shoes and dress for the weather! Drop-ins welcome.
Tours take place on the first Saturday of May-September (May 7, June 4, July 2, August 6, September 3) from 2-3 PM. 
Parking is available in the lot at Cullen Plaza.
When participating in Detroit Riverfront Conservancy's programs or visiting the Detroit Riverfront, please remember: The health and safety of visitors and participants is our top priority. Please stay home if you are feeling sick or have been exposed to someone with COVID-19. Program participants are encouraged to wash or sanitize their hands frequently and to respect the comfort levels of those around them.