Adventure awaits! Created in partnership with our friends at City Bird, these collections of locally-sourced items encourage outdoor summer fun for the entire family. Whether you treat yourself to this box of riverfront treasure, order as a gift for a loved one, or donate a pachage to one of our charity partners, by purchasing a #BeingApartTogether Package, you are supporting the important work of your Detroit Riverfront.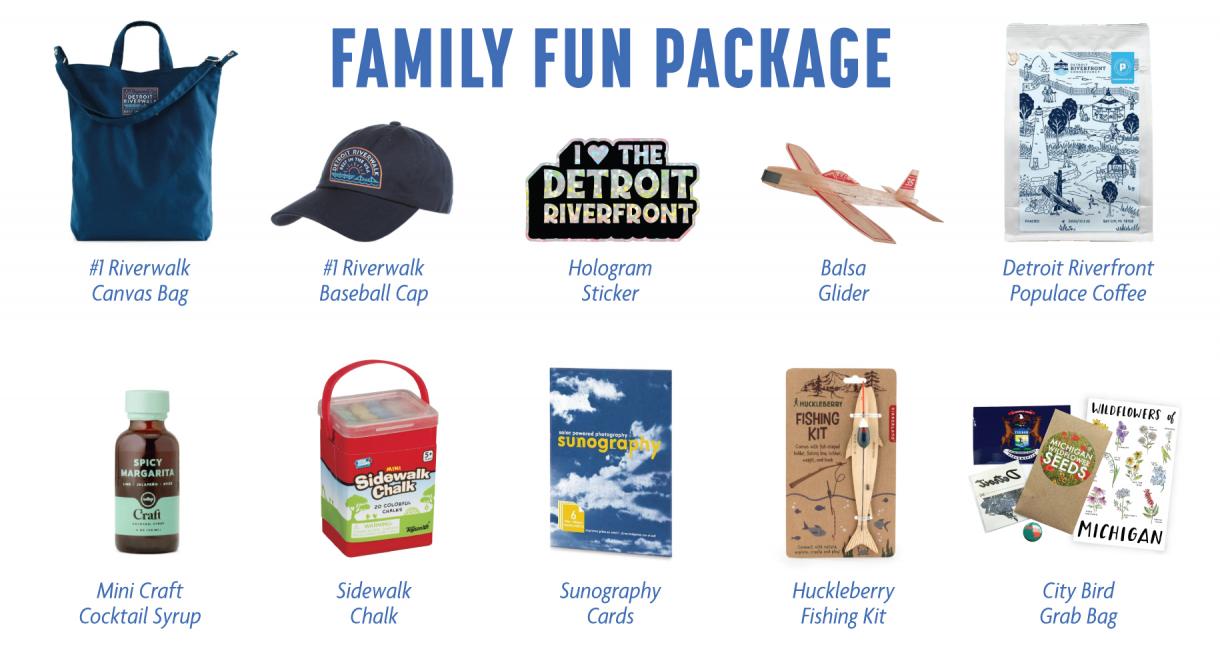 There's something for the entire family inside this special box of Riverfront gifts and unique summer activities. The Family Fun Package includes the #1 Riverwalk Baseball Cap, #1 Riverwalk Canvas Bag, #BeingApartTogether Balsa Glider, Detroit Riverfront Populace Coffee, Hologram Sticker, Mini Craft Cocktail Syrup, Sunogrpahy Cards, Fishing Kit, Sidewalk Chalk, Grab Bag, and Activity Zine (see below for item descriptions).
Enjoy this limited selection of Riverfront and summer items including the Detroit Riverwalk Baseball Cap, #BeingApartTogether Balsa Glider, Detroit Riverfront Populace Coffee, Hologram Sticker, and Activity Zine (see below for item descriptions).
Help us spread riverfront cheer throughout the community with the Buy-One-Give-One Program. In addition to receiving your #BeingApartTogether Family Fun Package, a family from one of our local charity partners will receive their own box of summer fun. 
Our non-profit partners include: Boys and Girls Club of Southeastern Michigan, The Children's Center, JazzyKat / Urban Fit Kids, Starfish Family Services, Healthy Kidz Summer Jam Day Camp
What's in the Family Fun Package?
Wear your #1 Riverwalk Baseball Cap* with pride and let the world know our Riverwalk is the best in the USA!
Pack everything you need for a day of riverfront adventure in your everyday #1 Riverwalk Canvas Bag.
Bring your #BeingApartTogether Balsa Glider* to your favorite riverfront park for some sky soaring fun.
Get your day started with this limited edition Detroit Riverfront Populace Coffee* bag of beans. This versatile medium roast blend from Guatemala and Colombia has delicious notes of chocolate, caramel, and cherry. 
Declare your love for your Detroit Riverfront with this eye-catching, weather-safe Hologram Sticker*. 
Made with premium ingredients, this Mini Craft Cocktail Syrup makes it easy to whip up a delicious cocktail. Simply add the hard stuff and stir, or enjoy over ice as a mocktail. You will receive one of the three syrup varieties - Moscow Mule, Old Fashioned, or Spicy Margarita.
These Sunography Cards are the perfect sunny-day activity for the whole family! Create a unique piece of artwork by placing twigs and leaves from a riverfront walk (or any other fun items on-hand) on the light-sensitive card, expose it to bright sunlight, rinse, and reveal a rich blue solar image print.
Get outside and enjoy a day fishing on the Riverwalk with your new Huckleberry Fishing Kit! 
Bring your Sidewalk Chalk along for the adventure! Create a game of hopscotch, draw a portrait of the Detroit Riverfront, or write a special message thanking our essential workers.
Enjoy this City Bird Grab Bag of Detroit and Michigan-themed items including pins, stickers, native seeds, temporary tattoos, and more!
Check out the #BeingApartTogether Activity Zine* for unique ways to create new summer memories on the Detroit Riverfront. This collection of games, activities, recipes, and other calls to action, has something for the whole family. 
*Items included in Riverfront Essentials Package
Packages will begin shipping mid-June. Please contact

[email protected]

with any questions.