WhY Help Us?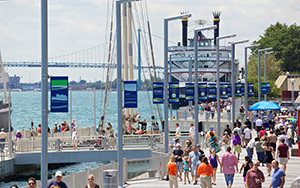 The Detroit RiverFront Conservancy is a non-profit organization founded in 2003 by civic, community and public leaders who took the lead in putting together a plan to develop public space on Detroit's historic and international riverfront.
The mission of the Conservancy is to develop public access along Detroit's riverfront and serve as an economic catalyst for the region – all while working with others to create more thriving, walkable and connected communities within the city.
As the permanent stewards of the riverfront public space, which includes the RiverWalk and the Dequindre Cut, the Conservancy is responsible for construction, operation, maintenance, security and programming, along with raising the funds to support all components of the project.
The Conservancy's ultimate vision is to develop five-and-a-half miles of riverfront from the Ambassador Bridge on the west to Gabriel Richard Park, which is just east of the MacArthur (Belle Isle) Bridge.
How you can help
There are many ways you can support the Conservancy's work and be a part of the historic development of the Riverfront. Each year the Conservancy seeks support for the community programs, maintenance and security of the Riverfront and the Dequindre Cut Greenway.
To make a donation over the phone, please contact the Annual Giving Department at 313.566.8235.