Riverfront Relaxin' - People's Choice Vote
Thursday, Aug 03, 2017 - 6:30pm to 10:30pm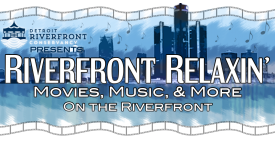 Celebrate summer along the beautiful Detroit Riverfront with the second annual Riverfront Relaxin' entertainment series presented by the Detroit RiverFront Conservancy and in conjunction with Park Solutions. Riverfront Relaxin' is a FREE five-night series, starting July 13 through August 17, featuring live music, food trucks, vendors and culminating with classic movies under the stars at West Riverfront Park located at 1801 W. Jefferson. Music kicks off at 6:30 and movies being at 8:30 pm, so bring your lawnchairs and blankets and head down to West Riverfront Park for riverfront relaxin'. See below for the music and movie info!
July 13 - Movie: Coming to America                               Music: Larry Lee & the Back in the Day Band
July 20 - Movie: Zootopia                                                  Music: Serieux
August 3 - Movie: Guardians of the Galaxy                    Music: Phase 5
August 10 - Movie: Space Jam                                          Music: Sun Messagers
August 17 - Movie: Hidden Figures                                  Music: The Groove Council
New this year will be a "People's Choice" vote for the August 3 movie selection. The public can cast their vote on the Detroit RiverFront Conservancy's Facebook page www.facebook.com/detroitriverfrontconservancy/ begiining Monday, June 18 through Friday, June 23 and the winning movie choice announced shortly thereafter.