Riverfront Canine Club with Canine to Five
Sunday, Oct 26, 2014 - 10:30am to 12:00pm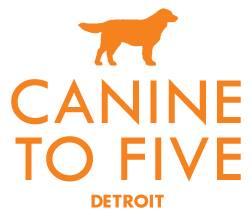 Canine To Five is proud to announce the return of the Riverfront Canine Club in partnership with the Detroit RiverFront Conservancy. This weekly walk is an opportunity to bring together Detroit-loving dog owners and to show off the riverfront.
The Riverfront Canine Club is a guided dog-walking group led by Canine to Five staff. The walk starts at Rivard Plaza typically walks to Joe Louis and back again.  It is a super fun way to get your dog some exercise and to meet other nice people and their dogs.
The Riverfront Canine Club meets at 10:30 a.m. in the parking lot of Rivard Plaza and the walk lasts between an hour and a hour and a half.Be sure to bring plenty of water for you and your 4-legged friend! This walks is FREE and all are welcome, if you have a dog or just love dogs! FREE parking is available in the parking lot behind Rivard Plaza.
We look forward to seeing you all Sundays through September.