Dequindre Cut Community Clean up!
Saturday, Apr 02, 2016 - 10:00am to 4:00pm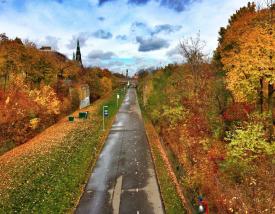 Come volunteer with the Detroit RiverFront Conservancy as we spruce up the Dequindre Cut!
A windy and rainy winter has left us with lots of sprucing up to do and we need your help! 
On Saturday, April 2nd the Detroit RiverFront Conservancy is hosting a community clean up of the Dequindre Cut including the new North extension. This will be an opportunity for a sneak peak before the grand opening in late April (details for that event will be available soon).
Volunteers are asked to register at the link below and meet for check-in at the Dequindre Cut entrances at Woodbridge, Gratiot and Wilkins Street for registration and directions. Please dress for the occasion. We will provide gloves and trash bags as well as snacks and water.
We'll be hosting the clean up from 10:00-4:00 PM, we ask volunteers to arrive anytime from 10:00-2:00 pm and feel free to volunteer for as long as you'd like. 
Parking: Free secure parking will be available at Rivard Plaza and the lot at the top of the Gratiot street entrance to the cut. 
Questions? Contact our volunteer manager Renee Rodriguez at renee.rodriguez@detroitriverfront.org or call 313.566.8207. 
Interested in being a conservancy volunteer? Click here