Campbell Terrace Performance Series - Deon Yates
Saturday, Aug 26, 2017 - 2:30pm to 5:00pm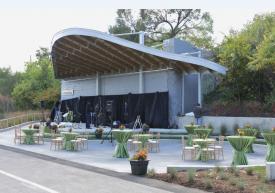 Join the Detroit RiverFront Conservancy for a series of community-based pop up performances on the Campbell Terrace. Through the summer, the Conservancy will host eight separate performances at the Campbell Terrace showcasing some of the most talented actors, dancers, poets, musicians or visual artists that can be found throughout Metro Detroit.  
The Campbell Terrace features a covered stage, tiered concrete walls for seating and lush landscaping.  It is located at the base of the Lafayette Street ramp to the Dequindre Cut between Orleans and St. Aubin Street.  The Terrace was commissioned by a $1 million gift from the McGregor Fund to honor the legacy of David Campbell, its former president who passed away in 2014.  Campbell was also a founding member of the Conservancy's board, as well as an avid supporter of arts and culture.
After opening last fall, the Campbell Terrace quickly became a popular destination for impromptu performances by artists who enjoyed the good acoustics, natural setting and uniquely Detroit feel of the space.  In addition to the impromptu performances which will again surely be popular this year, Conservancy leadership is looking forward to developing this series of performances by local artists.

Dates and artists are listed below. Weeknight performances take place after 6 PM and weekend performances take place mid afternoon. 

July 7— Painted Plateaus
July 27—Detroit Pleasure Society
August 12—Nique Love Rhodes
August 26—Deon Yates
September 10– Caribbean Pans of Joy
September 24– Motor City Street Dance