impact detroit
Support of the Detroit RiverFront Conservancy makes many community programs possible, while maintaining the safety and beauty of the Detroit RiverWalk and the Dequindre Cut Greenway. The Conservancy depends on community support to fund patrol, security cameras, and emergency call boxes located every 500 feet along the RiverWalk.
Your generous support will help us continue to grow and expand our footprint, programs and positive impact to our great city. Our levels of giving provide access to unique experiences and benefits while supporting our vision for the future of the riverfront and the operations of the present.
The Detroit Riverfront Conservancy is a 501(c)(3) non-profit organization. Gifts made to the Detroit Riverfront Conservancy will be tax deductible to the fullest extent of the law, please see specific gift receipt for estimated Fair Market Value of any benefits associated with your gift, please consult your tax advisor to determine deductibility. EIN#30-0125283. 
For more information on benefits and the associated levels,  see below.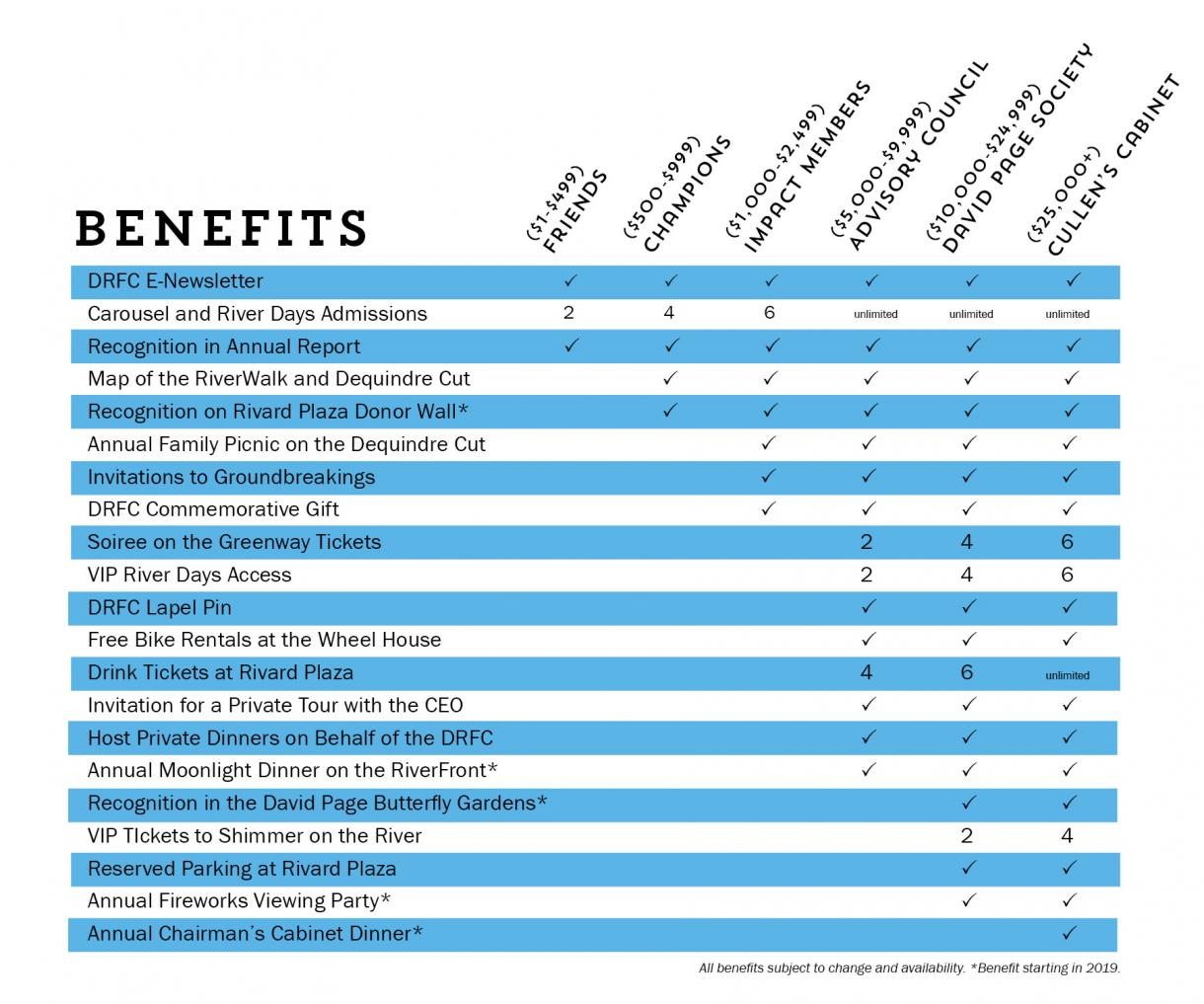 IMPACT MEMBERS
Armed with quarterly Impact Reports, these members serve as ambassadors for the Conservancy by sharing their story and ours with the community. Members at this level enjoy several benefits and, most importantly, they have access to new, unique experiences including an annual family cookout on the Dequindre Cut featuring a performance by leading Detroit cultural organizations.
ADVISORY COUNCIL 
Council members are close allies of the Conservancy with opportunities to serve as advisors on Board level committees and taskforces. Members at this level enjoy several benefits and, most importantly, they have access to new experiences including an annual moonlight dinner at unique spaces along the riverfront and a family cookout on the Dequindre Cut.
DAVID PAGE SOCIETY
We are excited to announce the David Page Society - the anchor of our Annual Fund Campaign - at the $10K giving level. A founding Board member of the Conservancy, David's support propelled the success of the riverfront revitalization project. As we continue our work, we do so with David's philanthropic drive to meet extraordinary goals. Society members will receive previews of spaces before they are open to the public, reserved parking at Cullen Plaza, two VIP tickets to Shimmer on the River, and a yearly bench sponsorship along the riverfront.
CULLEN'S CABINET
Celebrating our Chairman, Matt Cullen, we are pleased to establish Cullen's Cabinet, the Conservancy's strongest financial backers that receive all previous perks plus an Annual Dinner at a unique location featuring Detroit's newest chefs with the Conservancy's Board Chairman and CEO.