SWITCH
Thursday, Oct 03, 2019 - 7:30pm to 8:30pm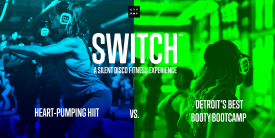 No More Boring Workouts!
DETROIT | Join us on right the riverfront at the amazing Gabriel Richard Park for SWITCH™!!!
SWITCH™is a dynamic silent disco fitness experience unlike any other in the city! It combines the immersive qualities of a silent disco party with fun & energizing fitness experiences that help to get your body moving and add a little bit of spice to your routine!
Here's where it gets exciting….
SWITCH™ features 2 liberating workout sessions in the same space at the same time! That's right, we combine 2 energetic fitness instructors, 2 targeted fitness routines, and 2 booming playlists to make sure you hit every cylinder and get a complete full-body workout!
How does it work…
It's all very simple! Upon arrival you'll receive a clean pair of silent disco headphones already programmed to your color. You'll spend 20-25 mins on your assigned channel until your instructor yells out SWITCH!...Then, you simply switch channels and follow along with your instructor on that channel for another 20-25 mins. You may look over and see others doing a totally different exercise than you are, but that's okay because at the end of the session we'll all SWITCH! to the same channel for a quick cool down and close out the session with a raffle giveaway featuring a few exciting gifts from our sponsors!
How to participate...
SWITCH™ is programmed in partnership with the Detroit Riverfront Conservancy. This event is open to the public and all ages/fitness levels are welcome to attend. However, because space is limited, a registration fee of $5 will be collected to reserve your spot and silent disco headphones for the session. (Note: If you would like to participate but cannot afford the $5 fee, a scholarship may be available to cover your registration. Email events@ctyhop.com for more info)
Meet your instructors… 
Heart-pumping HIIT is an energizing cardio & strength workout taught by Ja'Nye Hampton of Vibe Ride Detroit. Detroit's Best Booty Bootcamp is a liberating lower body & core strengthening workout taught by Lindsay Holder of Living Waters Yoga