Larry Alexander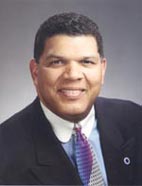 Board Member, Detroit Riverfront Conservancy
President & CEO, Detroit Metro Convention & Visitors Bureau
Larry Alexander, President and CEO of the Detroit Metro Convention & Visitors Bureau (DMCVB) and a 30-year veteran of the hospitality and tourism industry, has transformed the Bureau into the leading organization responsible for facilitating tourism economic development in Metro Detroit. His introduction of a 10-year tourism vision for the region in 2002 and the creation of a Tourism Economic Development Council to maintain accountability for that vision has led to several efforts now well underway to achieve regional beautification; service training of hospitality industry workers; and infrastructure improvements, including a critical review of regional facility space.
In addition to creating a long term tourism vision, Alexander runs the 50-person Bureau and its $12 million budget with the efficiency of a blue chip corporation. He leads an innovative, multi-award winning convention sales, marketing and convention services effort that has often exceeded CVB industry standards for its performance in its 108-year history.
Alexander navigated the efforts to land some of the world's most coveted sporting events, including Super Bowl XL in 2006 and the 2009 NCAA Men's Final Four. He also created and leads the Detroit Metro Sports Commission, a subsidiary of the Bureau responsible for landing the 2003 and 2008 AAU Junior Olympic Games, the 2008 Women's International Bowling Congress, and contributing to the successful bid for the 2005 MLB All Star Game.
Before stepping into his current DMCVB role, Alexander was an executive in the for-profit arena. He was the Managing Director of the Westin Hotel - Detroit Renaissance Center (now under Marriott ownership), responsible for the marketing and operations of one of the nation's largest hotels. He also served as General Manager of The Westin Miyako in San Francisco; The Westin-O'Hare in Chicago and The Westin Hotel Cincinnati.
Alexander is a board member of The Parade Company, The Automobile National Heritage Area, the Detroit Riverfront Conservancy, the Michigan Kidney Foundation New Detroit and Autism Society of America - Oakland County Chapter. He is also a member of the International Association of Convention & Visitors Bureau. He resides with his wife and daughter in Troy, Michigan.