Khalil Rahal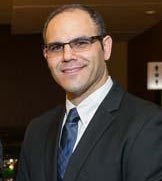 Board Member, Detroit Riverfront Conservancy
Executive Director, Economic Development Corporation, Office of the Wayne County Executive   
Khalil Rahal is the Executive Director for the Economic Development Corporation, Wayne County, Michigan.  His work includes management of the Economic Development Staff and component units - Brownfield, Land Bank, New Market Tax Credit, Bricks & Mortar grants controlled by the County - as well as assistance with management of HUD funds and involvement in the sale of County-owned land and development deals.  He is currently charged with restructuring the Economic Development Department and implementation of the overall strategy.
Prior he managed the Guardian Building, First Street Parking Deck and 511 Woodward and served as Ombudsman & FOIA Coordinator for Wayne County and Special Administrator in charge of ethics violations.  Special assigned projects included work involving revenue sharing, taxes, Third Circuit Court negotiations, juvenile programs and handling of citizen complaints.
Serving as Assistant Prosecuting Attorney from Jan 2010 to Jan 2015 for the Wayne County Prosecutor's Office, Detroit, Michigan, he was assigned to SVU, a special unit of prosecutors experienced and dedicated to solving and trying sex crimes.  He also handled media cases that received local, national and international news attention.  He held hundreds of felony examinations, prosecuted defendants, some of which included police officers, professional athletes, serial rapists and religious leaders, and directed and cross-examined testimony from a variety of expert witnesses.
Additional achievements include being hand-picked by the Chief of the Domestic Violence Unit to present at a Community Awareness Program, personally requested to appear on behalf of the WCPO for "Operation Stand down for Veterans",  selected as member of the Government Bar Association Board of Directors and its Executive Committee and re-established the Government Bar Associations Political Action Committee.
Khalil received his education from the University of Detroit Mercy School of Law, Detroit, Michigan, Juris Doctorate - May 2009 - Dean's List and Moot Court Awards and Grand Valley State University, Allendale, Michigan  - Bachelor of Arts Degree in Political Science in December of 2004
He is fluent in Arabic and he and his wife Pachia and their children reside in Dearborn, Michigan.